Americans are rightly concerned about funding a comfortable retirement, yet most aren't aware of what it will cost. Compared to life's other biggest expenses—buying a home, raising a child, paying for college—retirement carries the highest average price tag. The average cost of retirement is over $700,000 or about 2.5 times that of the average house (see figure below; NOTE: I realize here in the San Francisco Bay area, or anywhere else where the cost of living is much higher than average, that these numbers seem a bit skewed, but just remember that a high cost of living translates to an even higher spending need in retirement). It's truly the purchase of a lifetime.
Originally posted in Finances in Retirement: New Challenges, New Solutions, A Merrill Lynch Retirement Study, conducted in partnership with Age Wave, ©2017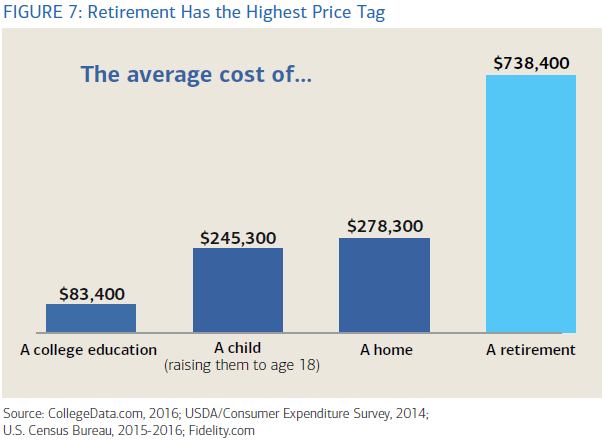 Many big variables go into financial planning for retirement. How much income per year do I need to live comfortably? How much can I save before retiring? How might my investments perform? The answers are different for each of us, and the uncertainty about getting them right affects almost everyone.
The important takeaway is this: just like every other important life goal listed, even though the price tag is high, planning and continued maintenance of that plan are sure ways to make it achievable.