America has long been touted as the land of opportunity. It's the place where our grandparents and parents decided to come, so they could provide a better life for their families. Part of that "American Dream" has always been to see the next generation surpass the last, as that was the truest testament to their sacrifice.
So it is with perturbation that I view the chart below. A recent study has found that the likelihood that young adults will earn more than their parents has plummeted in recent decades, fueling concerns that the American dream of steady upward mobility is foundering amid a widening wealth gap.
Just half of Americans born in 1984 earned more at age 30 than their parents did at that age, down from 92 percent in 1940, according to research released Thursday by Stanford economist Raj Chetty and five colleagues.
The study found two reasons for the drop: Income inequality has widened, so that even when the economy has grown, fewer Americans have received enough income gains to overtake their parents. And average annual economic growth has slowed since 1980, compared with the 35 years after World War II.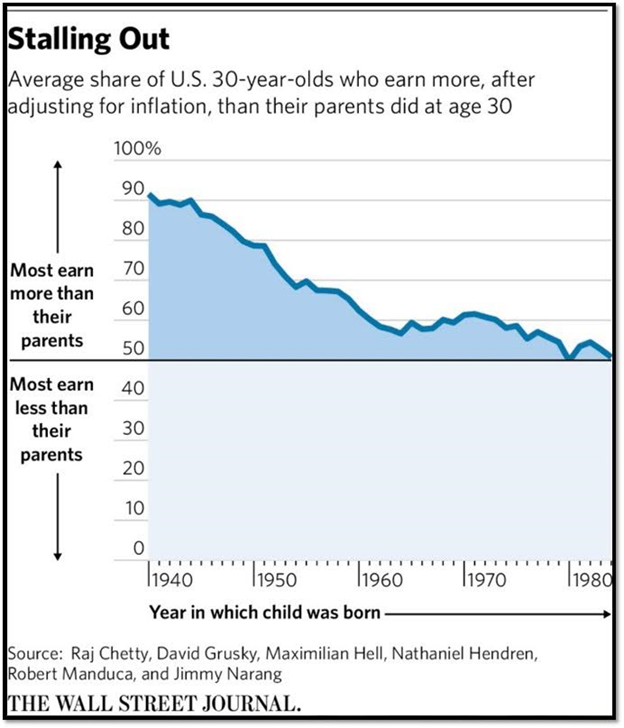 One thing this does help to explain – anxieties about status and economic opportunity formed a backdrop to the 2016 election campaign, with many voters concerned that their children wouldn't fare as well as they had. Conversely, many younger voters worry that they won't do as well as their parents, largely because of sluggish income growth and higher costs for housing, health care and student debt.
This research suggests that those concerns are well-founded. The decline in mobility occurred across all states, but was worse in Rust Belt states such as Michigan and Indiana, both of which backed Donald Trump.
Can the trend reverse? It can, but it'll take higher economic growth spread more evenly across the entire income distribution to do so. Otherwise, the next 30 years will be a challenge to continued upward mobility of the generations.
Source: http://www.cnbc.com/2016/12/09/americans-odds-of-earnings-more-than-their-parents-have-plunged.html