The median cost of a private room in a nursing home now tops $100,000 a year, which is 1.6 times the median national annual household income, according to a survey of long-term care costs by Genworth Financial Inc.
Per Genworth's 2018 "Cost of Care Survey," since 2004 (the first year of this survey) the cost of long-term care has increased 67 percent in assisted living facilities and 54 percent for a private room in a nursing home.
While the cost of care has skyrocketed at these facilities, the charges for in-home care costs have risen far less steeply — up 19 percent for a home aide and 26 percent for homemaker services since 2004, with the largest increases coming in the past two or three years. Surveys conducted by retiree advocacy group, AARP, have found that older adults overwhelmingly prefer to remain in their own homes as long as possible.
The annual median cost of care now ranges from $18,720 for adult day care services to $100,375 for a private room in a nursing home. Genworth reported annual costs for a variety of other long-term care services, including homemaker services, home health aide, adult day health care, assisted living and a semiprivate nursing home room.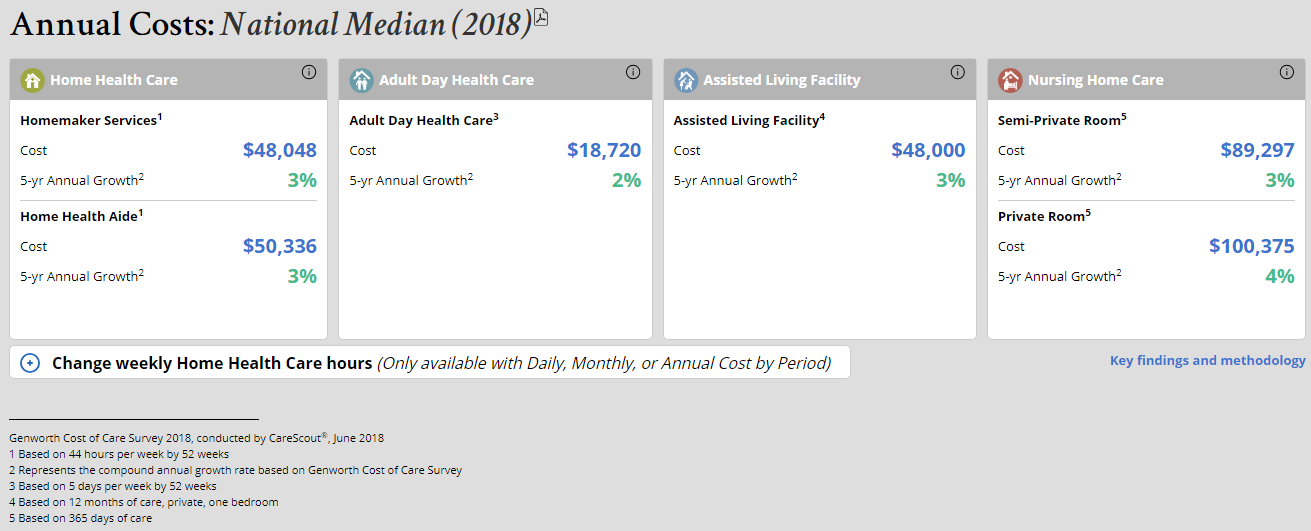 According to Genworth, the factors driving the increased cost of care include a shortage of skilled workers, higher minimum wages and changes in overtime pay rules, difficulty attracting and retaining qualified workers, a greater need for specialized care and the increasing incidence of Alzheimer's disease.
For the 2018 survey, Genworth conducted 15,500 surveys of nursing homes, assisted living facilities, adult day health facilities and home health care providers. The results show cost increases across all care settings — costs that affect the economic reality for individuals, families, employers and communities.
Furthermore, where you live in the country will have a huge impact on the cost of care. Genworth's cost calculator provides information on hourly, daily, monthly and annual costs of care by state and metropolitan region. And for some unfortunate Americans, they can only wish that the national median was actually their cost of care. Take a look at what people living in my part of the country, the San Francisco Area, average for the same long-term care services. Costs are anywhere between 10-40 percent higher!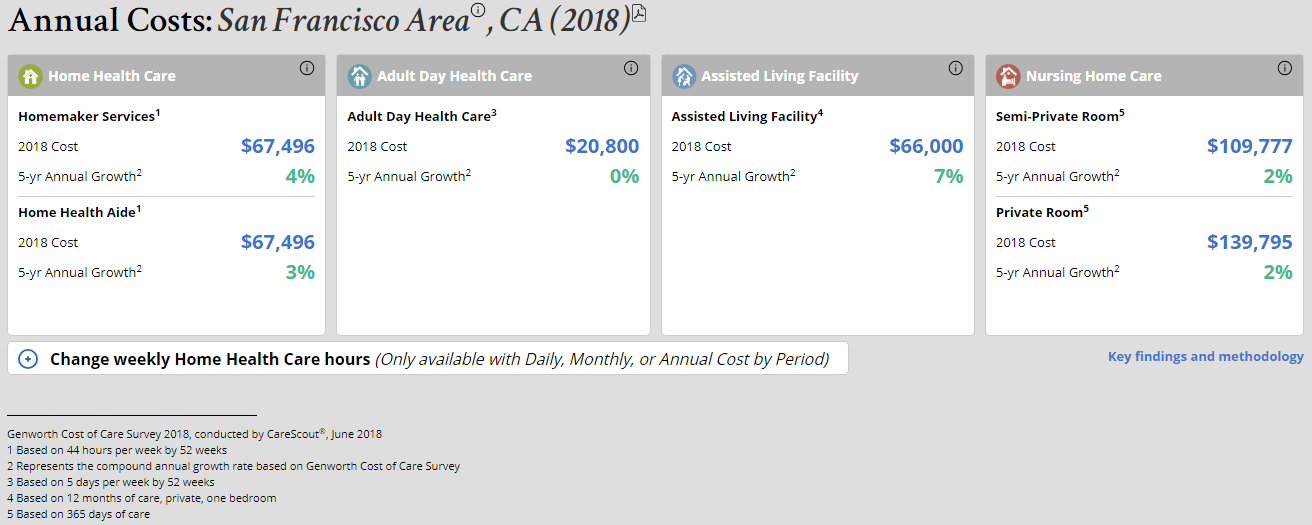 It is just another reminder that when planning for retirement and managing for potential risks, each individual situation will depend on circumstances, including where you live.